New Controller - "TimerStat PRO"
ERROR Status Display: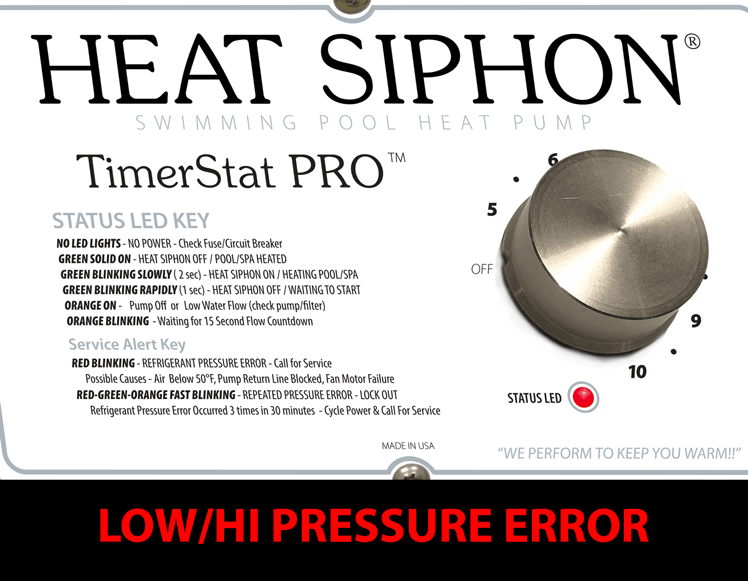 TIMERSTAT PRO ERROR CODE TROUBLESHOOTING
RED Blinking LED
This indicates either HIGH Refrigerant Pressure or LOW Refrigerant Pressure trips the Hi or Low Pressure Switch, which shuts down your Heat Siphon. If the error cause is corrected the Heat Siphon will resume NORMAL operation and the Red LED will stop blinking. This is a self-correcting Alert.
HIGH REFRIGERANT PRESSURE
This ERROR condition is caused by NOT ENOUGH HEAT IS BEING TAKEN FROM THE Heat Exchanger and is almost ALWAYS the result of LOW WATER FLOW. This error is usually due to:
Pump is DEAD HEADED - there is a valve or fitting that is Blocking the Pool Return Line
Skimmer or Filter Clogged - this lowers the pump flow
Pump Speed too slow - pump is not delivering at least 15-20 GPM required by Heat Siphon
Pool cleaning pump is plumbed to same inlet and is starving the flow to the Heat Siphon.
Thermal Expansion Valve (TXV) failure where a blockage create backpressure
LOW REFRIGERANT PRESSURE
This ERROR condition is caused when the compressor suction pressure drops abnormal levels possibly from the following:
Air Temperature is below approx. 45°F - Heat Siphon will shut down to prevent icing
Insufficiant cooling Air Flow - Fan Motor failure or bearing binding
Refrigerant leak which will damage the compressor if it continues running without cooling
Thermal Expansion Valve (TXV) failure where a blockage create low suction pressure
RED-GREEN-ORANGE Fast Blinking LED
If either of the above self correcting errors is repeated THREE TIMES IN 30 MINUTES it becomes a CYCLING ERROR and will shut down your unit UNTIL YOU CYCLE THE POWER to reset the TimerStat Pro. This is done to protect your unit from potential serious damage which could ruin your compressor. This usually indicates a serious water flow problem or a refrigerant leak.
UNLESS YOU CAN CORRECT THE ERROR the caused this cycling DO NOT JUST RESET YOUR BREAKER. Call the factory for service.
BASIC POOL OWNER TROUBLESHOOTING
The following is GUIDANCE FOR HEAT SIPHON® OWNERS with some technical background who have a problem with their Heat Siphon®.
If our guidance here doesn't solve the problem CALL YOUR INSTALLER and refer him to the Installer Section of your manual. He will contact the factory service center for additional service if required.
When you apply power to your Heat Siphon® through the disconnect and circuit breaker, usually one of three things will happen: Click on one for Detailed Troubleshooting Steps
IT TRIES TO START THEN SHUTS OFF
IT STARTS & RUNS but doesn't heat