Is your Heat Siphon DIGITAL?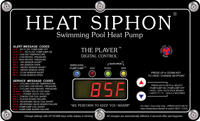 Look at the nameplate for the model number and if it STARTS WITH A "D" or a "Z" then it's DIGITAL. Current digital models have a WHITE Player Overlay instead of the Black one pictured here.
Look at the front - if your Heat Siphon has a KNOB instead of the digital display shown here - it's ANALOG. All Analog models used a black plastic knob and an electro-mechanical thermostat, until May 2010 when we switched to an electronic TimerStat. Four months later, a Stainless Steel Knob replaced the black plastic one. The Analog knob was on the lower right corner of the big control box door on the center left of the backpanel.
Some ANALOG models may have the same gray cabinet as the DIGITAL MODELS and the doors are the same, with a blank door in the upper left covering the digital control pocket, and just below that door a larger door with a knob in the lower right corner.
In February of 2014, all Analog Models switched to the TimerStat Plus have the knob on the upper "Digital Pocket" Door and they can be converted to Digital by just replacing them with the Digital Player Door and changing a few plugs in the control box.
Digital Product:

Revision Number:

Date Issued:

Wireless Player XLW
14.0
6-1-22
Non-Wireless Player Plus XL
13.15
10-4-2017
Non-Wireless Player Plus
1.800
12-17-2015
Non-Wireless Player
Heating Only
or Cooling Only

1.251

2-27-2013

Non-Wireless Player
Reversing Models
Heating & Cooling (Dual)

1.307

9-6-2013

Wireless Player
Heating Only or Cooling Only
For Coach System

1.429

4-12-2012

Wireless Player
Heating Only or Cooling Only
For Football System

1.500

4-12-2012

Wireless Player
Heating & Cooling (Dual)
For Coach System

1.600

4-12-2012

Wireless Player
Heating & Cooling (Dual)
For Football System

1.700

4-12-2012

Wireless Football
Controller Keypad
120v 60Hz Plug In

2.021

4-12-12

Wireless Coach
Controller Keypad
120v 60Hz Plug In

3.028

4-12-12

Wireless Type A,P or C PODs
(Auxiliary, Pump & Combo)
Coach/Football Systems

4.003

3-22-12

Wireless PassPort Gateway
for 1 to 24 Wireless Players
in Coach/Football Sytems
5.012
4-12-12


Call Us to Order Latest Software Revision on Update Keys