New Controller - "TimerStat PRO"
NORMAL STATUS DISPLAY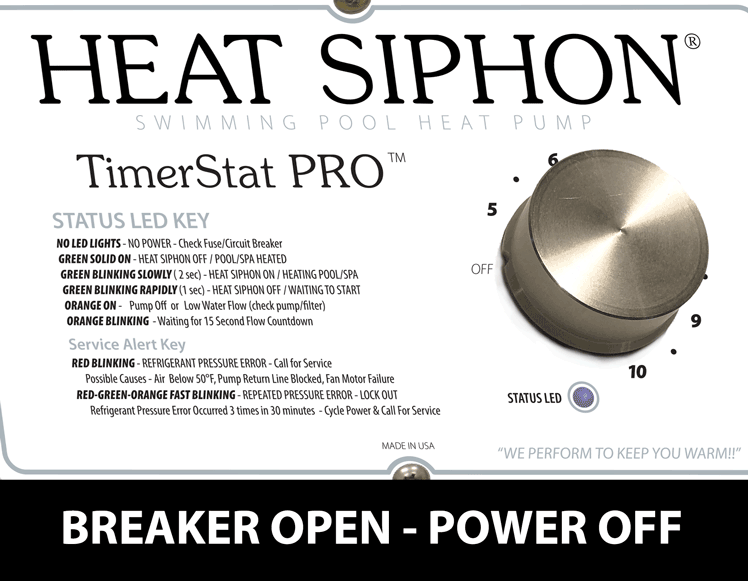 LED ON NEW TIMERSTAT PRO:
The NEW Analog "C" Series Heat Siphon's began shipping in August 2018 with our new TimerStat Pro Controller that adds a sophisticated status LED light while keeping our economical original "Set It & Forget It!" single knob design. The LED can display red green & orange to let you know the status of your Heat Siphon at a glance, including - POWER, NO FLOW, HEATING, HI/LOW Pressure Error, Reset Breaker Error & Call Factory for Servuce.
The TimerStat Pro will mount in the same door as the digital Player Models.This allows a direct replacement upgrade to Digital without any wiring or harness changes other than a simple jumper. Just remove the door unscrew the plug and replace it with a digital Player door assembly.
TIMERSTAT PRO STATUS LIGHTS
Normal Status Lights Explained
NORMAL Status Light sequence and what each LED State means:
LED is OFF = No Power to Heat Siphon - Breaker is OFF
LED is ORANGE STEADY ON = Power is ON but the PUMP is OFF - waiting for pump to start - water pressure switch has not detected water flow yet or may need adjusted.
LED is ORANGE Blinking = Water Flow detected and Heat Siphon is counting down 15 second delay to establish steady flow before starting.
LED is GREEN Blinking (1 sec on/1 second off) = Countdown 300 seconds restart delay to allow refrigerant pressures to equalize. If it has been longer than 300 seconds since Heat Siphon shut down, there will be no dealay and you will not see this blinking state.
LED is GREEN Blinking Slowly (2 sec on/1 second off) = HEAT SIPHON is running normally and heating pool water up to set point temperature on the knob.
LED is GREEN STEADY ON = Pool is at or above the set point temperature so Heat Siphon has shut off and is on standby. It will start back up if the pool water drops 1.5°F below the set point Temperature