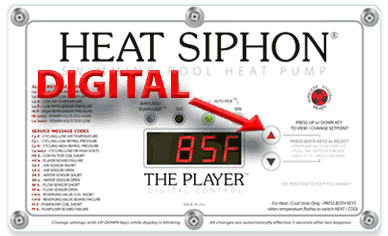 ANALOG MODELS: Turn the Heat Siphons Thermostat knob completely clockwise to "10".
Turn on the electrical power supply to the Heat Siphon. DIGITAL MODELS: After power is turned on, press the up or down arrow key until the display shows the "Heat Set" temperature ABOVE the "Pool" temperature.
It should start immediately. If it does not start you may need to ADJUST the WATER PRESSURE SWITCH
After running a few minutes make sure the air leaving the top of the Heat Siphon is cooler (Between 5-10 degrees F)
With Heat Siphon operating turn the filter pump off. The Heat Siphon should also turn off automatically, If not, readjustment of flow switch is required.
Restart the pump/filter, the Heat Siphon should start right up. If not readjustment of flow switch is required.
Allow the Heat Siphon and pool pump to run 24 hours per day until desired pool water temperature is reached.
ANALOG MODELS ONLY: At this point slowly turn the thermostat knob counterclockwise until the unit just shuts off and note the number on the dial Your Heat Siphon will now automatically restart (as long as your pool pump is running) when the pool temperature drops more than 1.5 degrees F below set temperature.
BOTH DIGITAL AND ANALOG MODELS: In other words "SET IT AND FORGET IT! "