Take Your PICK:
1. SIZE - 200HP, 375HP or 575HP
PICK the one of four Heat Siphon HP(BTUH) SIZES for the Heat Output you need by either using the QUICKSIZE guidelines in the chart below or the "PICK YOUR MODEL" SIDEBAR to the right: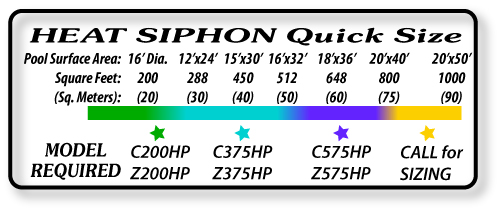 or Let us do a CUSTOM SIZING using YOUR POOL DATA and Our FREE pool heating/sizing program:
CLICK HERE>>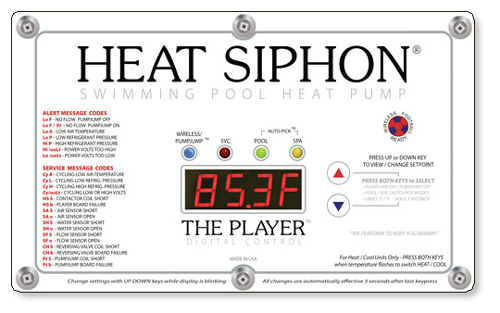 2. DIGITAL or ANALOG
PICK YOUR CONTROL SYSTEM- see the ANALOG or DIGITAL web page.
Simple dependable no frills single knob 24 volt controls are used on all C Series or Analog models, while the Z Series or Digital models have a sophisticated feature set, LED display including status and water temperature and are wireless ready.
If you want to spend more up front to go digital, then the The Z-Series option may be for you.
POOL SPA COMBO? - you need the DIGITAL for it's DUAL THERMOSTAT and AUTO-PIC features.
The DIGITAL PLAYER Control is much more than a digital Thermometer. (see Analog vs Digital)
Virtually all residential pools will use a 220 volt ac 60 Hz (USA) dedicated circuit breaker to supply power to your Heat Siphon. Commercial pools, Condominiums etc and export customer's power will probably require special model designations - see the voltage web page if in doubt.
4. Consider Accessories Purchases
In addition there are several Accessories available for Digital Player plug-in modules such as the Easy-Pic pool/spa automation interface, the Easy-clock plug-in that adds a pump timer control as well as PumpJump time clock over-ride/off cycle heating to your existing Player and hardwired add-ons including the T-POD pump control and the T-POD plus hardwired pool/spa control.
You may want to bookmark this link to Heat Siphon accessories as there will be several new products coming in the near future including Wireless controllers for pumps, pool/spa combo's 3 way valve actuators, water features, Add-on Wireless retrofit kits and more as we introduce our new wireless FOOTBALL FAMILY of products.
REMEMBER - No matter which model you select - Once it's installed the only thing you'll notice is the warm water and the low electric bill.