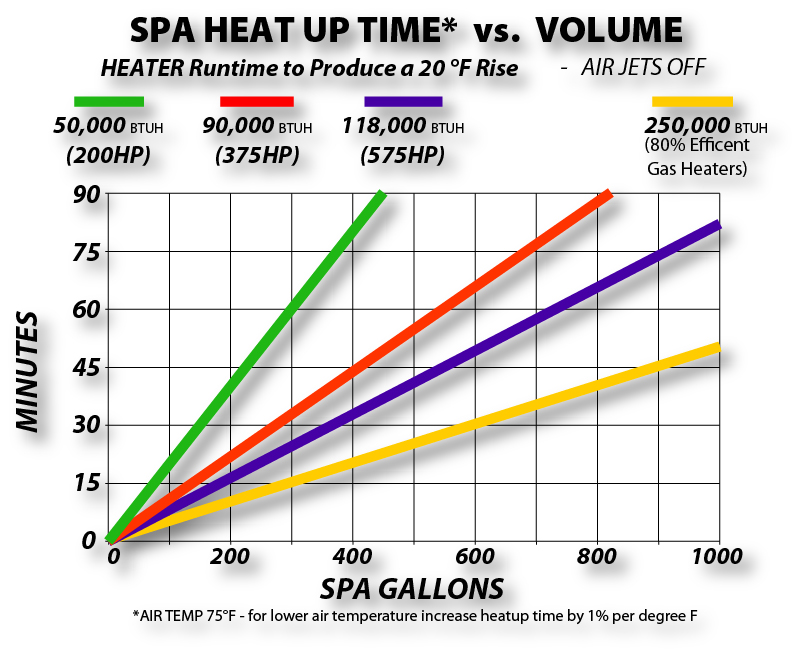 Spa Heat Up Times
The graph to the above shows how fast five sizes of spa heaters with increasing heat output, will take to heat up a spa 20° F assuming a 75°F air temperature. Increase the heat up time by 1% per degree F below 75°F.
The first four heaters shown above are the same size as the three basic Heat Siphon models - 200HP, 375HP and 575HP. The last one is a larger size gas pool heater.
ALL THREE HEAT SIPHON SIZES are more than large enough to maintain all but the largest spa at 102°F (39°C) with no trouble. The size you pick depends on how fast you want to heat up your spa, unless you want to heat with blower supplied air jets on (see SPA HEAT LOSS ).
The 30 Minute Rule
Most spa owners expect their heater to take no more than 15 to 30 minutes to heat their spa to 102°F. By finding your spa volume on the horizontal axis and following it vertically to the intersection of one of the colored lines, then reading the minutes scale, you can see how long it will take that heater to produce a 20°F rise. Here are the spa sizes each model can heat up 20 °F (from 80°F to 100°F ) in 30 minutes:
200HP Heat Siphon should be used up to 125 gallon spas
375HP for spas up to 300 gallons
575HP for spas up to 350 gallons
If you use your spa more then a few times a week then consider keeping it at temperature all the time. The cost to KEEP a covered spa at 102°F (39°C) for about 8 hours is roughly the same cost as each heat-up.