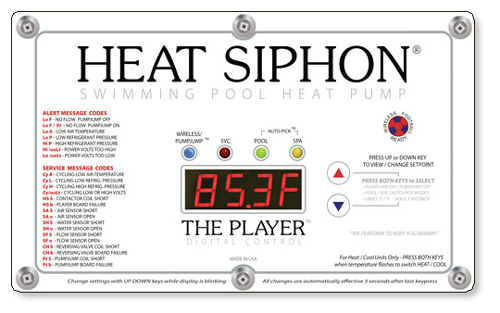 Digital Models:
ALL DIGITAL MODELS HAVE the HEAT SIPHON DIGITAL PLAYER CONTROLLER BUILT IN offering many additional features and options, a sophisticated problem detection system, a 4 digit LED display and 4 discrete LED lights to provide constant status and feedback. FOUR MODES (POOL, SPA ,AUTO-PIC and EC)
The DIGITAL DISPLAY - SHOWS WATER TEMPERATURE accurate to +/- 0.1°F and SET-POINT and ERROR CODES and ALERT MESSAGES
while 4 STATUS LED's show current operation modes:
Green LED for POOL blinks while heating and is solid on when the pool is at temperature.
Yellow LED for SPA works the same.
Red LED blinks for alert or error codes and stays on if SERVICE is required.
Blue LED is on if the Player's built in PUMPJUMP feature for off cycle heating is active or shows wireless communication is occurring.
DUAL THERMOSTAT for POOL SPA COMBOs - lets you set pool & spa temperature separately and simply select either one by changing the MODE.
AUTOMATION SYSTEM READY - Digital Player has an EC MODE (external control) with screw down terminals built in to allow remote ON/OFF switching via hard-wiring to all 3rd party pool/spa controllers..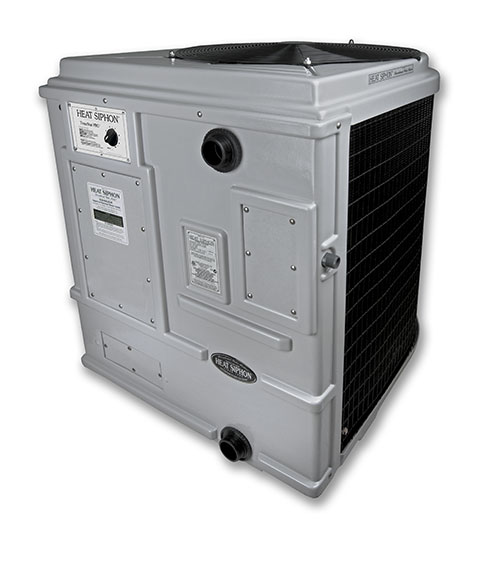 Analog Models:
Analog Modelsare LOWER COST & HAVE A SINGLE KNOB and a 24 VOLT series control circuit.
Many of our customers prefer the simple no nonsense design.
POOL SPA COMBO - Analog single thermostat requires manual setting to pool or spa set-point
AUTOMATION SYSTEM HOOKUP - Simple series analog 24 volt control circuit allows easy hard-wire hookup to an external controller.