HEAT SIPHON NEEDS THREE THINGS:
The Heat Siphon will perform well in any OUTDOOR location provided three (3) things are present:
FRESH OUTDOOR AIR
ELECTRICITY - 220 Volt AC
POOL FILTRATION PIPING
To avoid the expense of extra pool piping and fittings as well as more wire and possibly a higher cost heavier guage wire, you should locate your Heat Siphon as close as possible to your pool pump filter and your outdoor power center.

Heat Siphon may be installed virtually anywhere outdoors.
Unlike a gas heater it has no draft or pilot light problem in a windy area. Direct sunlight is not a concern since Heat Siphon's cabinet is made of a UV stabilized, flame retardant plastic.
DO NOT place Heat Siphon in an enclosed area with a limited air volume OR where Heat Siphon's discharge air will be re-circulated. OR close to shrubs which can block air inlet.
These locations rob the Heat Siphon of a continuous source of fresh air by causing the colder exhaust air to mix with the air entering the evaporator. This recycling of the already cooled exhaust air cools the air down even further which reduces HEAT SIPHON's efficiency and makes the compressor work harder.
If the space is confining enough the air will drop so low that HEAT SIPHON WILL ICE UP, SHUT OFF AND SHORT CYCLE. Installations such as these will VOID YOUR WARRANTY.
PREVENT RECIRCULATION OF THE EXHAUST AIR - IT WILL CUT DOWN EFFICIENCY.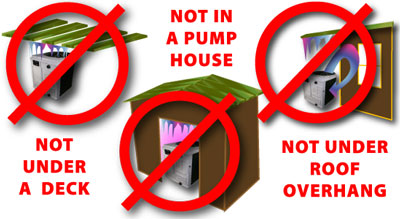 NOT UNDER A DECK
NOT IN A PUMP HOUSE
NOT IN A GARAGE or BASEMENT
NOT UNDER AN EVE OR OVERHANG
How Close To Your Pool?
Normally, the pool pump and Heat Siphon are installed close together and within 25 feet of the pool.
The longer the distance from the pool, the more heat loss from the piping. Since most of the time the piping is buried, the heat loss is minimal for runs of up to 50 feet (50 feet to and from the pump = 100 feet total) unless the ground is wet or the water table is high.
A very rough estimate of heat loss per 100 foot is 2500 BTU/hr for every 10° F difference in temperature between the pool water and ground surrounding the pipe, which translates to about 3% to 5% increase in run time.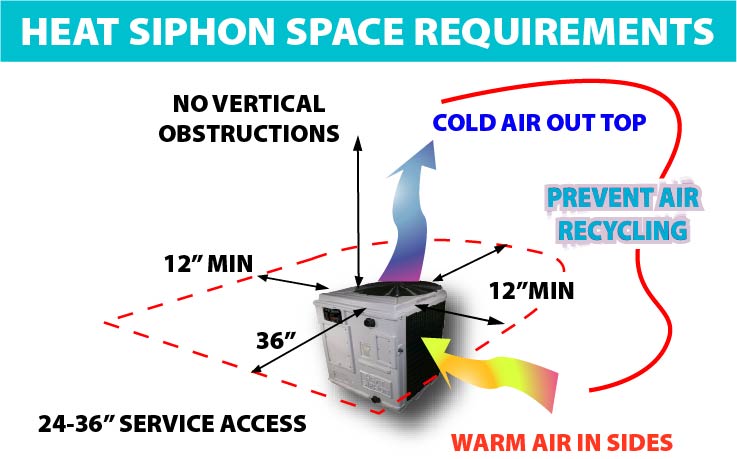 Where ever you locate your Heat Siphon make sure you allow plenty of space around it not only to prevent the cold exhaust air from re-circulating back into the inlet but also to allow access space should future service be required.
1. Allow 24 to 36 inches of open area all around the Heat Siphon for good air circulation.
2. Allow 36" minimum for service access.
3. Heat Siphon should be level to help drainage of condensation and rainwater. A standard 1/2inch barb fitting is located on the lower right side of the base pan. Standard flexible tubing will slip right over it to direct condensation away.
4. To minimize noise position the flat side of the unit toward sitting area. This side has the lowest noise emissions.