Skilled Workers Scarce in Tight Labor Market
By Jeffrey Sparshott
Feb. 2, 2017
Small U.S. manufacturers say it's difficult to find the right workers.
Nearly two-thirds of small businesses are spending more time training workers than they were a year ago, according to a survey by The Wall Street Journal and Vistage International, a San Diego executive-advisory group. That could give more Americans access to skilled manufacturing jobs as companies invest the time and resources to bring in less-experienced workers.
"The biggest challenge confronting firms is their need to expand hiring in an already-tight labor market," said Richard Curtin, a University of Michigan economist who oversaw the survey.
As a result, some firms are casting a wider recruiting net and landing workers with fewer relevant skills.
"It's very challenging to find individuals for job placements, especially ones with any type of experience," said Travis Lane, chief executive of safety equipment manufacturer Rock Exotica. "We've had to look to younger generations with less experience."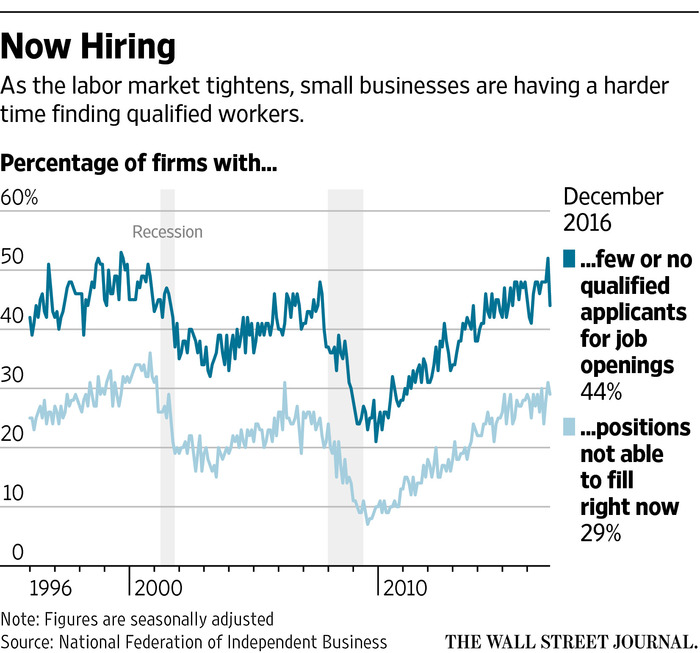 Spirit AeroSystems Inc., a maker of aircraft components that employs about 13,500 in the U.S., is trying to fill 250 jobs.
"As opposed to raising pay, what we're having to do is accept applicants with lower skills and invest in training them ourselves," said Justin Welner, the company's head of human resources. "We're having to broaden our approach and invest a lot more in training for the skills we require."
---
Unemployment 4.8% with More Americans Working or Actively Seeking Work
By JOSH MITCHELL
Feb. 3, 2017
Despite brisk hiring, the U.S. unemployment rate rose in January and wages grew modestly, evidence for the Trump administration and the Federal Reserve that the economy has room to grow before it risks overheating.
Employers added 227,000 jobs last month, the biggest gain since September, the Labor Department said Friday.
Mr. Trump, who met with corporate CEOs on Friday to shape his economic agenda, said he was "happy" with the jobs numbers, which he called "big league."
"We're bringing jobs back," he told reporters.
Businesses, for their part, appear to have gained confidence in recent months, in part due to Mr. Trump's pledge to reduce regulations but also because of a broader sense of economic stability.
"I'm knocking on my desk, on wood, it's gone very well," said Dennis Archer Jr. of business at Central Kitchen and Bar, a downtown Detroit restaurant he opened in 2015.
Mr. Archer is planning to open another restaurant and a lounge this year, and he expects soon to hire staff to run them. "I think that 2017 is going to be just as strong, if not stronger, than 2016," he said. "My optimism is high to very high."