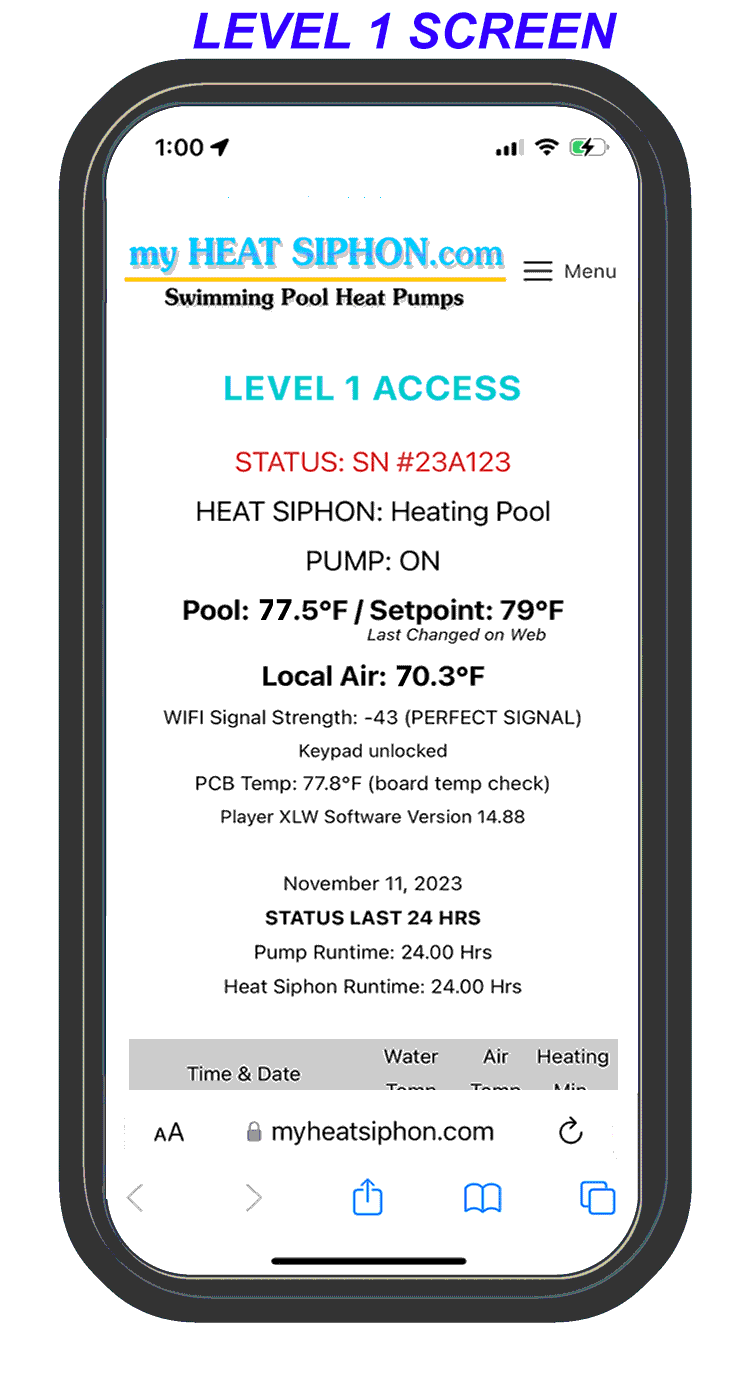 << WATCH OUR MyHeatSiphon.com
<< ANIMATION
After you register on MyHeatSiphon.com and join your Heat Siphon to your home WiFI network this is what you will see on your smart phone, iPad, tablet etc.
After you log into MyHeatSiphon.com YOU WILL SEE your HEAT SIPHON - LIVE - broadcasting to you directly from your local secure WiFI over the internet.
There are two basic levels -
LEVEL 1 is an information screen which shows the STATUS of your Heat Siphon starting with your unit's Serial Number, whether it is Heating, On Standby, OFF or OFFLINE - ( no WiFi signal)
The totals of pump runtime and heating time at the bottom of the screen only update On-the-hour.
As you scroll down on the actual site to reveal a table showing 24 rows of hourly values for the Time, Water and Air Temperature and heating minutes.
LEVEL 2 is where you control your Heat Siphon. You can change the pool temperature set point using a pulldown menu that gives Temperature in Fahrenheit (and Celsius in parenthesis)
You can turn your Heat Siphon OFF so it will stop running until you turn it back ON.
You can also LOCK or UNLOCK the keypad to prevent anyone from changing the pool temperature locally at your Heat Siphon.
In addition we will have text message ALERTS which you can enable to text you if the pool temperature is over or under a value you select and whether it is OFFLINE ( no WiFi signal)
THE BIGGEST ADVANTAGE
Remote Diagnostics - is where the factory can check your Heat Siphon on line when there is any problem - we will know what is wrongand how to fix it!!
IS Your PUMP ON?
POOL WARM?
Any problems?
These are questions that ALL POOL OWNERS worry about. Especially when your not home!
ALL NEW Digital Heat Siphon's answer these questions by letting you monitor your pool or spa pump & Heat Siphon for FREE from ANYWHERE IN THE WORLD on any Smart Device , iPhone, iPad, Android phone, tablet etc. with our EXCLUSIVE BUILT IN Player XLW WiFi/ Bluetooth Controller.
Once activated, these models automatically join your local home WiFi network and let you monitor your pool or spa including water and air temperature, pump runtime, last 24 hours of heating and pump operation and much more.
AND IF THERE IS A PROBLEM YOU'LL KNOW. You can also receive text messages when events happen.
TWO Simple Steps
FREE AND EASY!!
1. REGISTER your Heat Siphon
2. JOIN your WiFi Network
After you install your Heat Siphon, just register to get your free username and password.
Registering is as simple as using your smart phone to scan the QR code on your Heat Siphon's nameplate.
JOIN your Heat Siphon to your home WiFi Network - see our How to video
All digital Heat Siphon owners are given a FREE LIFETIME Subscription to Level 1 Access
For more features including controlling your Heat Siphon you can upgrade your subscription to level 2 to remotely control your Heat Sipohn or level 3 access to add pump control.