New TimerStat Pro Status LED Enlightens Owners / Serviceman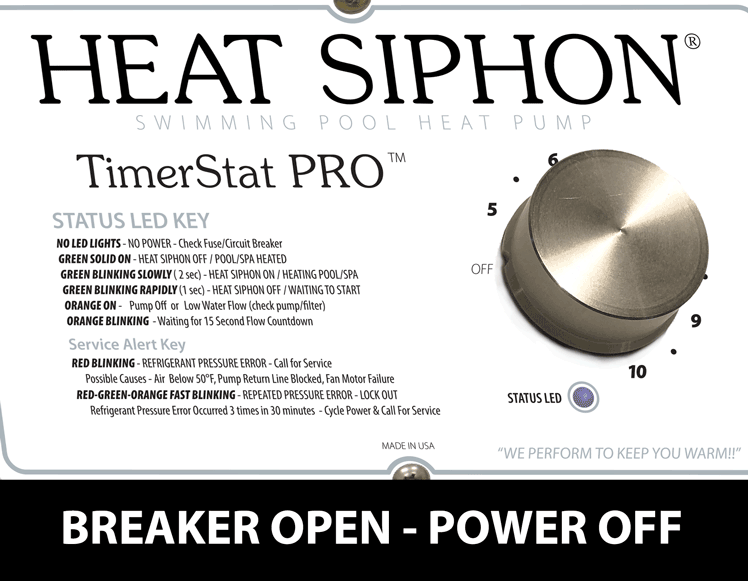 Latrobe, PA - May 15, 2019
The NEW Analog "C" Series Heat Siphon's began shipping last year with our new TimerStat Pro Controller that adds a sophisticated status LED light while keeping our economical original "Set It & Forget It!" single knob design.
The LED can display red green & orange to let you know the status of your Heat Siphon at a glance, including - POWER, NO FLOW, HEATING, HI/LOW Pressure Error, Reset Breaker Error & Call Factory for Servuce.
When flashing the LED signifies various conditions such as checking flow, restart delay, heating pool, SEE ABOVE - animation for demonstration.
The TimerStat Pro will mount in the same door as the digital Player Models.
This allows a direct replacement upgrade to Digital without any wiring or harness changes other than a simple jumper. Just remove the door unscrew the plug and replace it with a digital Player door assembly.
"This is a MAJOR improvement which required some changes to the software of the controller, and the minimal cost of adding an LED to the board. The NEW SMART USER FRIENDLY Timerstat Pro will not impact the price of our analog models" says Bill Bernardi, President.
Consumer Confidence Hits 15 Year High!!
By Sharon Nunn WSJ May 17, 2019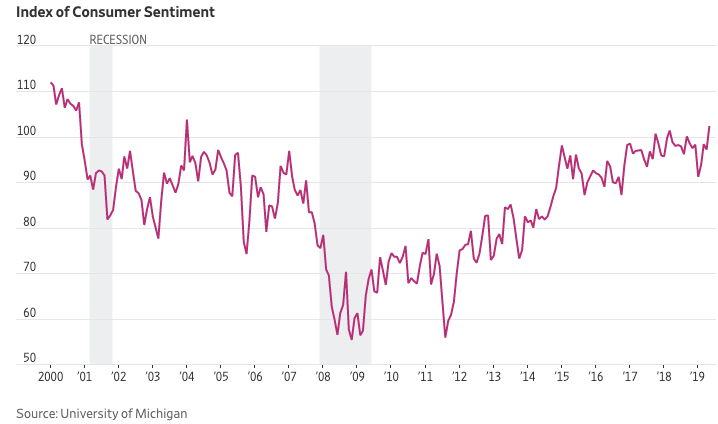 WASHINGTON—U.S. household sentiment rose starkly at the beginning of May to its highest level in a decade and a half, driven by a brighter economic outlook.
The University of Michigan on Friday said its consumer sentiment index was 102.4 in early May, up from 97.2 in April. Economists surveyed by The Wall Street Journal expected the confidence gauge to tick down to 97.0.
The survey's underlying gauge of future expectations increased to the highest level since 2004, driving most of the month's overall sentiment rise. The headline number has now fully recovered from a drop earlier this year and last year, which was caused primarily by the U.S. government shutdown and financial-market volatility.
In the medium term, the index has bounced around historically high levels for more than two years as employers continue to create jobs and wages rise at a faster pace.
Better Days are On The Way!