BEWARE of BAIT & SWITCH Online Retailers
Just because you have Googled "Heat Siphon" and found an online retail website, don't assume that they are really a HEAT SIPHON FACTORY CUSTOMER.
Although an online retailer may show a picture of a HEAT SIPHON and a price on their website, they may just be using the listing to get your click from a search engine for "HEAT SIPHON" or "POOL HEATER" . . . BUT, when you call to order, they will be "out of stock" or have a "better deal" on some other brand.
The real truth could be that We at Heat Siphon don't sell to them and may have never heard of them - BEWARE if they don't give you the honest pro's and con's on each model. Ask for references.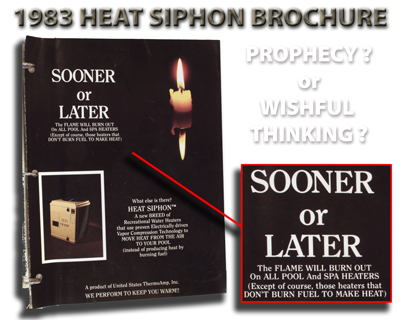 Buying from a reputable online retailer may save you money, and some who specialize in pool heating can provide technical knowledge as well.
You will be responsible for all additional costs, however, including freight and installation.
When ordering online, and shipping to a residential address YOU MUST MAKE SURE THE SHPPER IS USING A LIFTGATE TRUCK FOR DELIVERY.
If we are drop shipping directly from our factory to you and you live in Pennsylvania, add 6% Sales tax. If your internet retailer is located in your state then they should be charging you sales tax for that state (if applicable), if not - BE AWARE that you are responsible for paying your state sales tax directly. If in doubt - ASK your retailer.
It is better to have your pool dealer do your installation and we really would prefer that THE DEALER call us and order your unit. But if you are having trouble locating a pool builder because your pool is older and or your builder is no longer in business then we still urge you to find professional help to complete your installation.
HAVE A LICENSED ELECTRICIAN AND A PLUMBING OR POOL DEALER LINED UP and get their price quotes for parts and labor BEFORE YOU CALL AN ONLINE RETAILER so you can REALLY TELL WHETHER YOUR GETTING A BARGAIN online. Once you include ALL the costs involved, you may actually find a better FULLY INSTALLED price from a local pool dealer for your Heat Siphon. In any case GET ALL PRICES BEFORE YOU ORDER.