HEAT SIPHON Cuts CO
2

Emissions up to 46%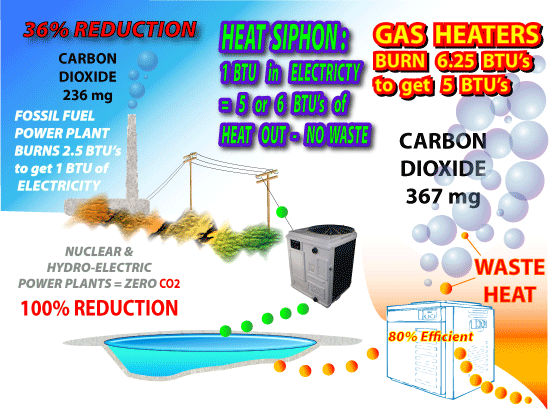 OVER TEN YEARS THE AVERAGE NATURAL GAS POOL HEATER CONSUMES 2 TRILLION BTU'S of NATURAL GAS AND GENERATES 258,000 POUNDS OF CARBON DIOXIDE!
Increasingly scarce natural gas should be reserved for heating homes, not pools. For every gas pool heater HEAT SIPHON replaces or eliminates, millions of BTU's of natural gas are saved for home heating.
75% of the nations electricity is generated by nuclear, hydro or coal, which are either abundant or inexhaustible. Since HEAT SIPHON uses only electricity, it consumes only sustainable resources while it conserves already scarce and expensive fossil fuels such as oil, natural gas and propane.