How Does It Work?-Watch the Green Ball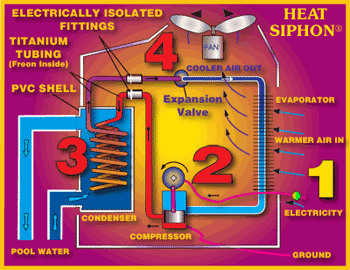 YOU PAY FOR 1 UNIT OF ELECTRICITY AND YOU GET 5 to 7* UNITS OF HEAT
At 1 a unit of electrical energy

(you pay for) runs the compressor which sucks evaporating freon gas from the liquid filled evaporator tube. This causes a strong cooling effect (just like sweat evaporates from you skin & cools you off). The gas picks up four units of heat

(FREE) from the air flowing over the outside of the evaporator tubes.
At 2 the compressor squeezes this gas, causing its temperature to climb above 200° F (93° C) Result: Five units of heat added to the gas.
At 3 the hot,high pressure gas flows through the inside of the condenser coil. The colder 80° F (26° C) pool water picks up the five units of heat from the freon which cools it down back to a warm liquid.
At 4 the warm liquid is forced through a valve. As it drops in pressure, it rapidly expands and becomes extremely cold liquid .This liquid flows back into the evaporator At 1 where it repeats the cycle.