All Analog Models Get - New TimerStat Pro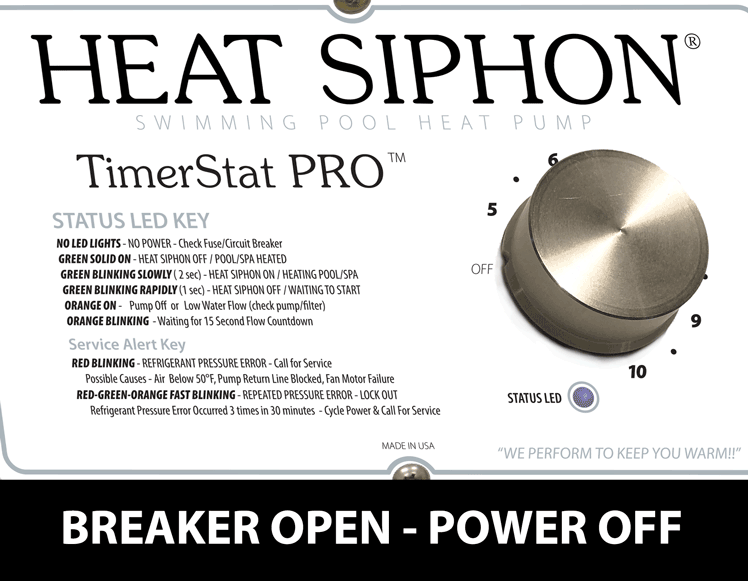 Latrobe, PA - July, 2018
The NEW Analog "C" Series Heat Siphon's will begin shipping this month with our new TimerStat Pro Controller that adds a sophisticated status LED light while keeping our economical original "Set It & Forget It!" single knob design.
The LED can display red green & orange to let you know status, including - POWER, NO FLOW, HEATING, HI/LOW Pressure Error, Reset Breaker Error & Call Factory for Servuce.
When flashing the LED signifies various conditions such as checking flow, restart delay, heating pool, SEE ABOVE - animation for demonstration.
The TimerStat Pro will mount in the same door as the digital Player Models.
This allows a direct replacement upgrade to Digital without any wiring or harness changes other than a simple jumper. Just remove the door unscrew the plug and replace it with a digital Player door assembly.
U.S. Hiring Strong in June - 213,000 Jobs Added
By Eric Morath WSJ - July 6, 2018
WASHINGTON - A strong economy is drawing more Americans into the labor force in search of jobs.
The unemployment rate rose to a seasonally adjusted 4.0% in June, while wage growth remained modest, as new workers took up the job hunt and employers staffed up. Nonfarm payrolls rose by 213,000 in June, more than expected, and hiring the prior two months was revised higher by 37,000 jobs, the Labor Department said Friday.
The increase in the jobless rate from May's 3.8%, the lowest mark since April 2000, came as 601,000 Americans entered the labor force. Many of them were counted as unemployed because they hadn't yet gotten the jobs they set out to find.
"As news gets out that more jobs are available, people who thought it wasn't worth looking have started looking—and many of them are getting jobs," said Kate Warne, an economist at Edward Jones. "It's clear that we're not running out of workers. There is additional leeway for job growth to remain strong." The civilian labor force has grown by an average of about 250,000 each month this year.
That is the best six-month stretch of Americans entering the labor market in more than two years. In June, the share of American adults working or looking for a job rose by 0.2 percentage point to 62.9%. The gain runs counter to the longer-running trend of an older population that is less likely to work.
The rate is comparable to the 1970s, a time when women were still entering the workforce in greater numbers. Participation among Americans in their prime working years, between ages 25 and 54, has trended up since 2015 and was 82% last month. However, that is still down from just above 83% when the recession began in 2007.
Labor-force participation rose in June for women, blacks and those with less than a college education. As a consequence, the unemployment rate for all three groups increased from historic lows. But a greater share of Latino Americans sought jobs last month—and found them. The Latino unemployment rate fell to a record low 4.6%.
GDP Growth of 4.9% Forecast for 2nd Qtr
Steady hiring and low unemployment show the labor market continues to be an area of strength for the economy. What might be different now is the other aspects of the U.S. economy appear to be picking up steam.
Forecasting firm Macroeconomic Advisers lifted its projection for the second-quarter economic growth rate to 4.9% Friday. Barclay's projects a 5% rate. That view was bolstered by a separate Commerce Department report Friday showing the trade deficit narrowed for the third straight month in May. Spring data on gross domestic product will be released later this month.
Still, such high rates of economic growth—stoked by strong consumer spending and unusually high soybean exports—are likely not be sustainable. Macroeconomic Advisers projects a 2.7% rate for the third quarter.
Strong hiring alongside a narrowing trade gap may invite a more aggressive trade stance that could affect medium-term growth.
Average hourly earnings for all private-sector workers increased 5 cents last month to $26.98. Wages rose 2.7% from a year earlier in June. Wages haven't increased at better than a 3% rate from a year earlier since the recession ended in 2009—but wages have risen at least 2.5% from a year earlier in 16 of the past 17 months. That is a faster pace than recorded earlier in the expansion.
Better Days are On The Way!