Unemployment Lowest in 17 Years -
Employers Scramble to Hire
By By Josh Mitchell and Eric Morath- May 4, 2018
WASHINGTON - The U.S. economy steadily created jobs in April while the jobless rate fell to the lowest level since late 2000, suggesting available workers are becoming scarcer in a tightening labor market. Employers added 164,000 jobs in April, a pickup from March and more than enough to keep up with population growth, the Labor Department said Friday.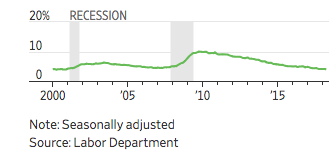 The jobless rate, calculated from a separate survey of households, fell to 3.9% from 4.1% a month earlier, hitting the lowest rate since December 2000, toward the end of the tech boom.
Wages grew 4 cents over the month and 2.6% over the past year, strong enough to keep paychecks slightly ahead of cost-of-living increases. Economists surveyed by The Wall Street Journal had expected 175,000 new jobs in April and the jobless rate to fall to 4%.
Employers have added jobs every month since October 2010—a 91-month stretch that ranks as the longest period of unimpeded job growth on record.
But Friday's report the expansion is running into a new obstacle: Too few available workers. Employers have stepped up hiring this spring—they've added an average 208,000 jobs over the past three months, well above last year's monthly average of 182,000.
The civilian labor force—comprised of Americans with jobs or actively looking for work—fell by 236,000 last month. The participation rate—or the share of the population in the labor force—slipped a tenth of a percentage point to 62.8%. Employers in April appeared to be hiring those actively looking for jobs, instead of Americans who had fallen out of the labor force.
---
Small Business Still Soaring
Latest NFIB report finds more firms, more jobs and higher pay.
By James Freeman - Wall Street Journal - May 3, 2018
The forecast for political news may be stormy, but the owners of American small businesses are seeing blue skies in the economy as they continue to create jobs and increase wages.
That's according to the latest employment report from the National Federation of Independent Business, due out later today. The NFIB April survey finds that small firms are healthy, and that there are more of them.
According to NFIB Chief Economist William Dunkelberg, "The increase in new business establishments is running well ahead of eliminations, a real boost to new employment. Owners reported adding a net .28 workers per firm on average, the third highest reading since 2006 (down from .36 workers reported last month, the highest since 2006). Reported gains were higher only six times since 2000."
The recurring story of recent months continued into April. While owners of small businesses are ramping up employment, they're not hiring as many people as they'd like to hire because they simply can't find the workers. Most of the 1,554 participants in the survey reported hiring or trying to hire in April, but a full 88% of those trying to add employees reported few or no qualified applicants for the positions they were aiming to fill.
Twenty-two percent of owners cited the difficulty of finding qualified workers as their single most important business problem, "exceeding the percentage citing taxes or regulations. Shortages of qualified workers are clearly holding back economic growth," says Mr. Dunkelberg.
Firms in construction and manufacturing are having a particularly hard time finding potential employees. But, just like businesses in other industries, they are not giving up the search.
A seasonally adjusted net 16% plan to create new jobs, down four points from March but "historically strong," adds the NFIB chief economist. Labor markets for both skilled and unskilled workers remain tight. This all suggests that tomorrow's official government employment report will contain some good news.
But it's worth noting that last month the Labor Department found modest job creation in the broader economy compared to the vibrant small-business hiring tracked by NFIB.
Mr. Dunkelberg nonetheless offers a Friday preview:
"The unemployment rate will fall below four percent and the job creation numbers surprise on the upside (over 200,000) if owners have their way."