New TimerStat Pro Status LED Enlightens Owners / Serviceman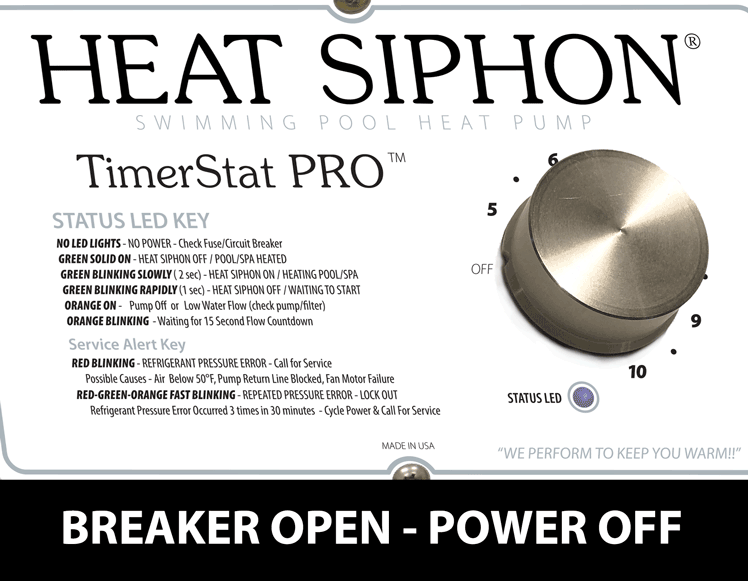 Latrobe, PA - September 10, 2018
The NEW Analog "C" Series Heat Siphon's began shipping this month with our new TimerStat Pro Controller that adds a sophisticated status LED light while keeping our economical original "Set It & Forget It!" single knob design.
The LED can display red green & orange to let you know the status of your Heat Siphon at a glance, including - POWER, NO FLOW, HEATING, HI/LOW Pressure Error, Reset Breaker Error & Call Factory for Servuce.
When flashing the LED signifies various conditions such as checking flow, restart delay, heating pool, SEE ABOVE - animation for demonstration.
The TimerStat Pro will mount in the same door as the digital Player Models.
This allows a direct replacement upgrade to Digital without any wiring or harness changes other than a simple jumper. Just remove the door unscrew the plug and replace it with a digital Player door assembly.
"This is a MAJOR improvement which required some changes to the software of the controller, and the minimal cost of adding an LED to the board. The NEW SMART USER FRIENDLY Timerstat Pro will not impact the price of our analog models" says Bill Bernardi, President.
Strong Economy - Wages Higher as Hiring Heats Up
By Harriet Torry and Sarah Chaney - WSJ
WASHINGTON—Sept 7, 2018
A robust economy drove U.S. wages higher in August, new evidence that workers are gaining bargaining power with their employers as the nation's pool of available labor becomes tighter in an expansion that appears to have gained steam in 2018.
The Labor Department reported Friday that worker payrolls expanded by 201,000 in August and private-sector hourly wages grew 2.9% from a year earlier. The payroll gain marked the record 95th consecutive month of job growth—much of it near or slightly below that 200,000 monthly mark—and the wage increase was the largest since mid-2009. Wage growth has been a missing ingredient in the expansion.
It hovered for years below pre-recession levels but has been creeping higher since 2015, with the August reading marking a new high for the expansion. Many factors held wage growth down, including slack in the economy after the 2007-09 recession and increased competition in the U.S. from workers abroad. But as U.S. unemployment has declined, the supply of workers has diminished, giving individuals more leverage to demand and get better pay.
"Everybody is battling for the very few skilled people out there," like machinists and engineers, said Richard Huether, chief executive of Independent Can Co., base in Belcamp, Md. He said he has seen some employees resign without backup jobs, for instance to move back home, knowing they'll find something where they want it.
"Overall, the momentum in the economy looks solid," said Michael Feroli, chief U.S. economist at JPMorgan Chase & Co.
Revised figures from the Labor Department showed employers added 147,000 jobs in July and 208,000 in June, a net downward revision. Still, year-to-date job gains have averaged about 207,000 a month, compared to 189,000 in the same period a year earlier.
The annual growth in average hourly earnings for private-sector workers rose 2.9% in August.
Emily Reaves, an IT software analyst in Jacksonville, Fla., said she was "pretty scared" when she was recently let go from a job. Yet Ms. Reaves, 33 years old, found a new position through a recruiter in a week and a half. Jobless Rates Unemployment held steady at 3.9% in August while a broader measure including underemployment decreased to 7.4%. "I feel good right now. I also know it's important to be cautiously optimistic," she said.
Tamra Kennedy, a franchise owner of eight Taco John's International Inc. restaurants in the Minneapolis-St. Paul area and one in Iowa, said competition for workers has prompted her to start advertising jobs on the radio. She also started offering a $100 bonus for the first 100 hours worked by new hires, and raised wages in July by 13% or more.
Hand & Stone Massage and Facial Spa, a massage and facial spa with 385 franchised locations across the nation, is seeking to expand. Chief executive Todd Leff says the firm plans to open 55 to 60 spas. Each new location will need to staff up with about 15 licensed therapists and five to seven sales associates. "Our biggest challenge is finding people," Mr. Leff said. A downturn in enrollment at massage-therapy and skin-care schools means fewer available therapists, Mr. Leff said. To help address this labor shortage, Hand & Stone offers tuition reimbursement for massage-therapy-school graduates of about $125 to $150 a month. The spas are also offering training for hot stone and Himalayan Salt treatments, as well as wage bumps of 5% to 7% for therapists to aid with retention.
Better Days are On The Way!