New TimerStat Pro Status LED Enlightens Owners / Serviceman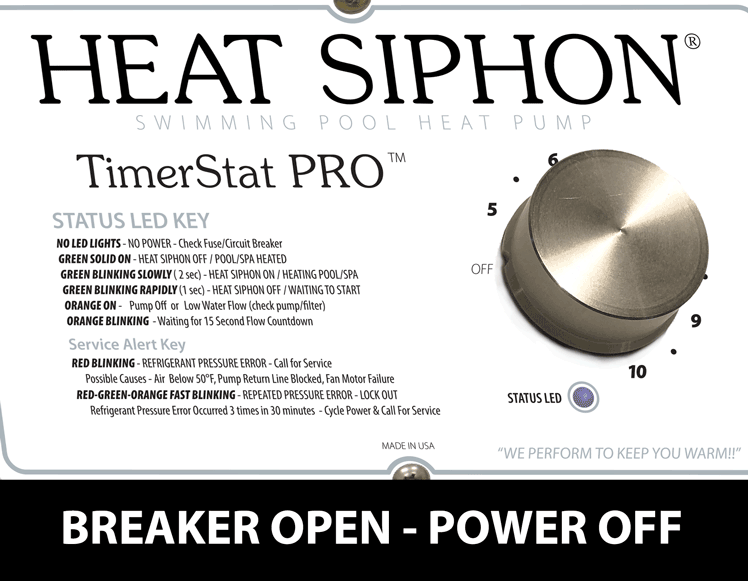 Latrobe, PA - September 10, 2018
The NEW Analog "C" Series Heat Siphon's began shipping this month with our new TimerStat Pro Controller that adds a sophisticated status LED light while keeping our economical original "Set It & Forget It!" single knob design.
The LED can display red green & orange to let you know the status of your Heat Siphon at a glance, including - POWER, NO FLOW, HEATING, HI/LOW Pressure Error, Reset Breaker Error & Call Factory for Servuce.
When flashing the LED signifies various conditions such as checking flow, restart delay, heating pool, SEE ABOVE - animation for demonstration.
The TimerStat Pro will mount in the same door as the digital Player Models.
This allows a direct replacement upgrade to Digital without any wiring or harness changes other than a simple jumper. Just remove the door unscrew the plug and replace it with a digital Player door assembly.
"This is a MAJOR improvement which required some changes to the software of the controller, and the minimal cost of adding an LED to the board. The NEW SMART USER FRIENDLY Timerstat Pro will not impact the price of our analog models" says Bill Bernardi, President.
U.S. Unemployment Rate Falls to Lowest Level Since 1969
By Harriet Torry and Sarah Chaney - WSJ Oct 5,2018
WASHINGTON—Unemployment in September hit the lowest level since the Vietnam War, with little indication it is going to shoot back up in the near term.
The jobless rate fell to 3.7%, the lowest since December 1969, the Labor Department said Friday.
Wages rose 2.8% from a year earlier, a solid if still unspectacular rise.
"This is the best job market in a generation or more,"
said Andrew Chamberlain, chief economist at recruiting site Glassdoor.
Unemployment rates below 4% are extremely rare in 70 years of modern record-keeping. The two longest sustained periods came during the Korean and Vietnam Wars, when the combination of strong growth and the enlistment of young men from the civilian labor force helped to largely wring unemployment out of the economy.
Fed officials see the current economy playing out differently than the 1960s. They estimate inflation will remain subdued, allowing them to keep short-term interest rates relatively low.
Bond investors have been reassessing the economic and financial outlook in recent days. With the economy running so strong, they have come to the conclusion the Fed will keep raising short-term rates next year to keep it from overheating.
A return to 3.7% unemployment "shows how resilient and adaptable the American economy is," said Carl Tannenbaum, chief economist at Northern Trust.
"To think about the multitude of global and technological changes that occurred since 1969, reorienting the labor force to keep such a large fraction of the population at work is quite an achievement."
. . . (continued in sidebar)
Better Days are On The Way!