24/7 - 85°F for $2.50/Day!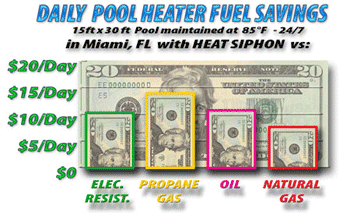 Heat Pumps Beat All Fossil Fuels for Pools
A 3.25HP Model HEAT SIPHON will MAINTAIN 85 °F in a 15' x 30' pool in PORTLAND,MAINE or MIAMI,FLORIDA 24 hours per day, 7 days per week, for as low as $2.50 per day based on US Dept of Energy Cost Data. Click the cities above for proof.
Using the US Dept of Labor national average fuel prices - HEAT SIPHON will heat your pool for:
1/2 the cost of Natural Gas
1/4 the cost of Oil or Propane
1/5 the cost of Electric Resistance
HEAT SIPHON is a HEAT PUMP specifically designed for swimming pools and spas. JUST LIKE AN AIR CONDITIONER a water cooler or a refrigerator it uses established vapor compression technology invented in 1909. Heat Siphon moves heat from the outdoor air to your swimming pool water using electricity and the refrigeration cycle
THE TREND IS CLEAR - Cheap Oil and Natural Gas are scarce and industry, government and university studies have all projected steady price increases while the fuels used to generate 75% of the Nation's electricity (coal, nuclear & hydroelectric) are either ABUNDANT OR INEXHAUSTIBLE.