New TimerStat Pro Status LED Enlightens Owners / Serviceman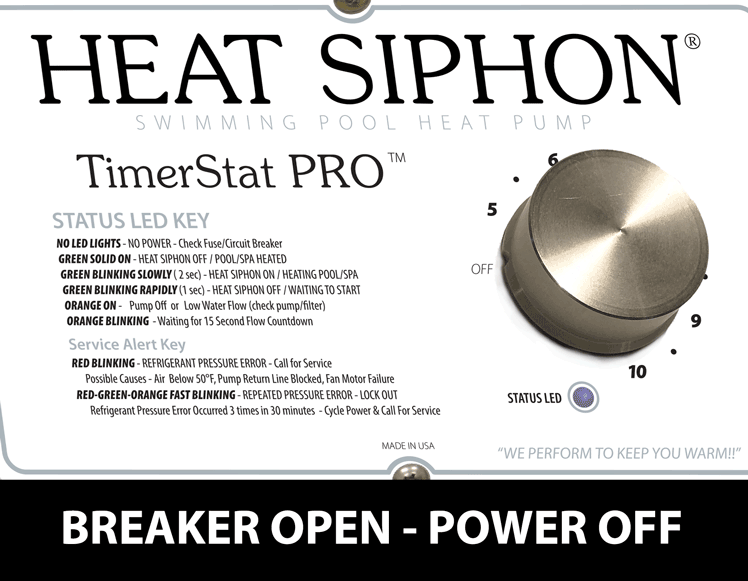 Latrobe, PA - April 1, 2019
The NEW Analog "C" Series Heat Siphon's began shipping last year with our new TimerStat Pro Controller that adds a sophisticated status LED light while keeping our economical original "Set It & Forget It!" single knob design.
The LED can display red green & orange to let you know the status of your Heat Siphon at a glance, including - POWER, NO FLOW, HEATING, HI/LOW Pressure Error, Reset Breaker Error & Call Factory for Servuce.
When flashing the LED signifies various conditions such as checking flow, restart delay, heating pool, SEE ABOVE - animation for demonstration.
The TimerStat Pro will mount in the same door as the digital Player Models.
This allows a direct replacement upgrade to Digital without any wiring or harness changes other than a simple jumper. Just remove the door unscrew the plug and replace it with a digital Player door assembly.
"This is a MAJOR improvement which required some changes to the software of the controller, and the minimal cost of adding an LED to the board. The NEW SMART USER FRIENDLY Timerstat Pro will not impact the price of our analog models" says Bill Bernardi, President.
7.1 Million US Job Openings as of March 1
By Eric Morath WSJ April 9, 2019
There were a seasonally adjusted 7.09 million unfilled jobs on the last business day of February, the Labor Department said Tuesday.
iCIMS, which separately tracks job opening figures, sees a healthy rebound in available positions in March. The smaller number of openings, down 500,000 year over year, came during a month when hiring slowed to a crawl.
U.S. employers added 33,000 jobs to payrolls in February, revised data released last week showed, while employers added a solid 196,000 jobs to payrolls in March.
February's weakness may have reflected bad weather in parts of the country, slowing hiring and recruitment activities in some sectors, and a cooling after robust gains in both jobs and openings the prior month.
Openings declined in construction, local schools and leisure and hospitality, three categories that can be impacted by weather and temporary closures. Manufacturing openings also declined.
Openings increased in professional and business services and held steady in health care.
There were 7.625 million job openings in January, revised data in a Tuesday report showed. That was just 1,000 fewer openings than November, the peak for available jobs on records back to 2000.
Despite February's decline, jobs remain plentiful compared with the number of Americans who are unemployed but actively seeking work.
There were 876,000 more available jobs than unemployed people. Such a gap has occurred for 12 straight months, but never previously in nearly two decades of monthly records. The report showed the rate at which workers quit their jobs held steady at 2.3% for the ninth straight month—the longest the rate has ever held at the same figure.
That is a historically high rate, just below a record set in early 2001, but some economists have expected quits—a proxy of workers' confidence in the job market—to move higher with the unemployment rate trending near 49-year lows.
Better Days are On The Way!