New TimerStat Pro Status LED Enlightens Owners / Serviceman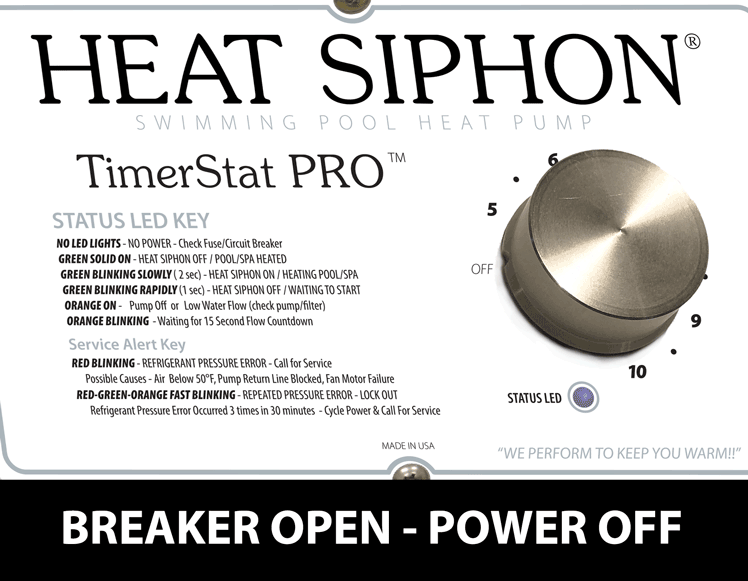 Latrobe, PA - February 9, 2019
The NEW Analog "C" Series Heat Siphon's began shipping this month with our new TimerStat Pro Controller that adds a sophisticated status LED light while keeping our economical original "Set It & Forget It!" single knob design.
The LED can display red green & orange to let you know the status of your Heat Siphon at a glance, including - POWER, NO FLOW, HEATING, HI/LOW Pressure Error, Reset Breaker Error & Call Factory for Servuce.
When flashing the LED signifies various conditions such as checking flow, restart delay, heating pool, SEE ABOVE - animation for demonstration.
The TimerStat Pro will mount in the same door as the digital Player Models.
This allows a direct replacement upgrade to Digital without any wiring or harness changes other than a simple jumper. Just remove the door unscrew the plug and replace it with a digital Player door assembly.
"This is a MAJOR improvement which required some changes to the software of the controller, and the minimal cost of adding an LED to the board. The NEW SMART USER FRIENDLY Timerstat Pro will not impact the price of our analog models" says Bill Bernardi, President.
U.S. Economy adds 312,000 Jobs in December !!
3.2% Wage Growth since Dec/2017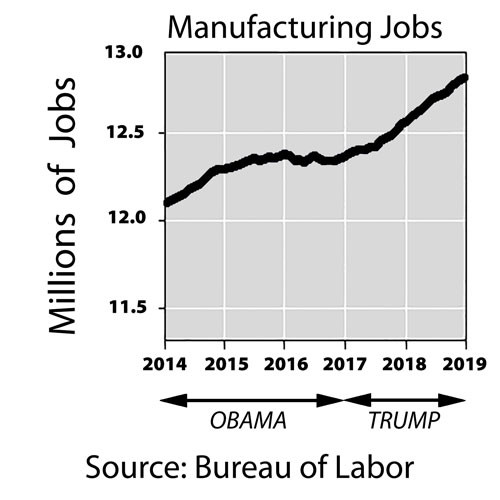 By By Danielle Paquette and Andrew Van Dam
WAPO - Jan. 2019
The U.S. economy added 312,000 jobs in December, smashing expectations for year-end growth, and wages rose 3.2 percent in the year since December 2017 after nearly a decade of tepid improvements, federal economists reported Friday.
The unemployment rate crept up to 3.9 percent — the highest level since July, the Labor Department latest numbers showed. "That shouldn't ring alarm bells" said Joseph Brusuelas, chief economist at RSM, an international consulting firm.
Some 400,000 more people began looking for work last month, signaling that higher pay could be motivating Americans who were previously on the bench to start seeking better opportunities.
"You re bringing people back into the labor force," he said. "Thats a good thing. Altogether, 2018 was the best year for job creation since 2015. "
As Graph to Right Shaows - According to the BLS data, Manufacturing Job Growth Rate Accelerating under Trump Administration
Better Days are On The Way!