The Heat Siphon Story
Chapter One: EUS Failure Lit the Fuse
From 1979 to 1983 Heat Siphon's founders were busy working at a small company in Monroeville, Pa called EUS Inc. designing and testing EUS's first swimming pool heat pump. They innovated the first round unit and the first vacuum formed plastic cabinet. They also designed the first spa heat pump, a small round 110 volt unit.
Back then (1982) just before EUS laid off everyone at the Monroeville, Pa offices, they were working on a blue acrylic coating to prevent corrosion of the copper coils they were using in the EUS heat exchangers.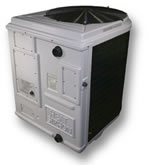 EUS started back up in 1984 in Tennessee and continued to make pool heaters with literally NO CHANGES to those designs right up until the new owners decided to sell it.
In 2003 - the Hayward pump company purchased EUS Inc. Initially they continued to use that blue coating, until 2008 when they adopted Heat Siphon's use of Titanium. To this day they still use the same cabinet designs developed by Heat Siphon's founders.
In 1986 - Air Energy Heat Pumps (founded by our first customer - a Miami pool builder named John Zakryk) copied Heat Siphon's cabinet and fan/grille design and began assembling a pool heat pump which was remarkably similar to Heat Siphon, in Pompano Beach, Florida.
In 2001 - Kopec Industries (now defunct) was started by one of our founders, John Kopec's son Butch.
In 2003 Jandy purchased Air Energy. In 2008 they switched from cupronickel to titanium.